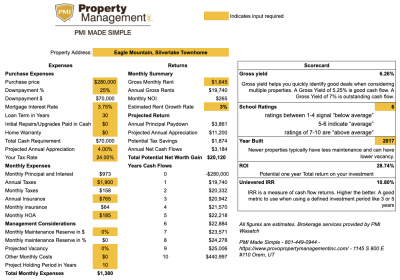 There are lots and lots of ways to evaluate a potential investment property. So, not surprisingly there are a lot of investment calculators built out there to help. I think this is great, investing in real estate is not a fly by night investment, due diligence is required.
I have built an investment calculator with the goal of appealing to a wide audience. There are other calculators out there that I really like as well. Here are two calculators that I would recommend that you take a look at as well.
Good Mortgage – Free to use. Not the most detailed, but really helps to quantify the total impact of an investment in real estate.
Bigger Pockets – Great detailed calculator, however, if you would like to use it over time you will have to pay for a subscription.
While our calculator is not the most detailed, it is also not the most simplistic. It's designed to be fairly detailed without overwhelming the user with complex questions and explaining a few different kinds of return metrics that you can use in different plans for properties.
Personally, when I evaluate a property I do run these numbers to make sure that the investment makes sense, however, I also heavily weight the non-numeric factors like the school system, location, and growth of the area. In Utah, especially high-growth areas like Lehi, Spanish Fork, Bluffdale, Draper, Eagle Mountain and American Fork, a large part of the return is from the appreciation of the property over time. I think that it is important to consider these when looking at any property in Utah County.
Here are some of the key inputs that can really change the feasibility of potential investments:
Financing terms
Property taxes
Property insurance
Estimated monthly rental rate
Projected vacancy
HOA costs
Here are some of the return formulas that the calculator uses:
Gross Yield. Gross Yield is a great quick calculation that can help identify which properties in a list of 5 to 10 potential properties are priced more attractively considering cash flow.
Return on Investment (ROI) is a total return metric. I like to use this as an estimate of what impact the investment will have on your net worth.
Unlevered Internal Rate of Return (IRR) is a return metric that considers the purchase price, future sales price, and cash flow in between those time. It doesn't consider total return (i.e. mortgage principal paydown over time) but is helpful when you have a planned holding period like 3 or 5 years. Also helpful to compare different options one against another.
Above is a screenshot of the calculator itself along with a link to open it so you can try it out. You can click on the link to download a copy to use for yourself.
https://docs.google.com/spreadsheets/d/14SH6GvhQT5MgnDeIMkMvd1IBiYAfwL657ANK7mU6Xn8/edit?usp=sharing