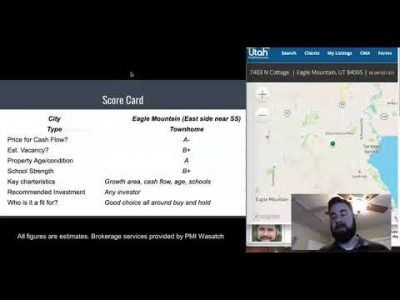 At PMI Made Simple we strive to be your financial guide along your journey to financial freedom through real estate. We also believe that Utah county and Utah is a unique real estate market that can be rewarding to real estate investors.
This property just hit the market in the Silver Lake community of the East part of Eagle Mountain! We have experience managing properties here and they have gone well as profitable investments. It is a townhome with 2017 construction. Two quick advantages of that are potentially lower property maintenance as well as decor, paint, and floor plans that are appealing to tenants.
Here are a few of the reasons why we like it:
2017 construction
This area of Eagle Mountain and Saratoga is projected to grow tremendously in the upcoming years.
Solid school system
Good cash returns for a buy and hold real estate investor
More and more amenities are coming to this area all of the time.
We like investments in the East Side of Eagle Mountian, we think you can get a lot of property for your investment.
Here is our summary scorecard.
| City Type | Millcreek Condo |
| --- | --- |
| Price for Cash Flow? | A- |
| Est. Vacancy? | B+ |
| Property Age/Condition | A |
| School Strength | B+ |
| Key Characteristics | Growth area, cash flow, age, schools |
| Recommended Investment | Any investor |
| Who is it a fit for | Good choice all around buy and hold |
All figures are estimates. Brokerage services provided by PMI Wasatch