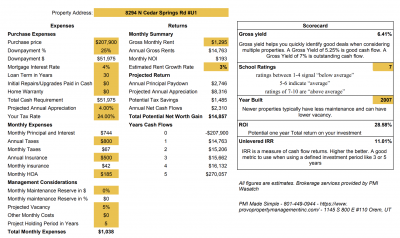 At PMI Made Simple we strive to be your financial guide along your journey to financial freedom through real estate investing. We also believe that Utah is a unique real estate market that can be rewarding to real estate investors.
This is a quick real estate investment analysis of a condo that just hit the market in Eagle Mountain!! This property has a couple of things going for it that we think that this could be a great 1st or 2nd acquisition for a real estate investor. Its price is great to get a 3 bedroom property at $207,900. Market rate rents are $1,295/mo. Property looks attractive as is and could be an easy turn key investment. Also, may have tenants in place already which we view as positive for two reasons. First, lowers vacancy costs and second gives you a competitive advantage when looking for properties that with tenants that other potential buyers may not be versed with in valuations.
Here are a few of the reasons why we like it:
2007 construction
This area of Eagle Mountain near the Ranches grown alot with a lot of commerical real estate come into the area. Growth is only going to get better for this are over time as well.
Solid school system near Westlake High School
Potential for positive cash flow after HOA payments with a 25% downpayment
The community comes with great amenities.
We like investments in the East Side of Eagle Mountian, we think you can get a lot of property for your investment.
Here is our summary scorecard.
All figures are estimates. Brokerage services provided by PMI Wasatch